Insta360 One X on the
Wiral Lite Compact Cable Cam [US]

"First impression of this thing; I think it's really well designed. It's very easy to set up."
Wiral Lite Cable Cam tested with GoPro HERO7, Insta360 ONE X, Sony a6400 and Panasonic GH5!
[US]

"WIRAL LITE is hands down one of the most intuitive, useful tools for content creators. It does exactly what it is intended to do. It's crazy simple to set up and fun to play with.
You're left with the feeling - "I can do this!"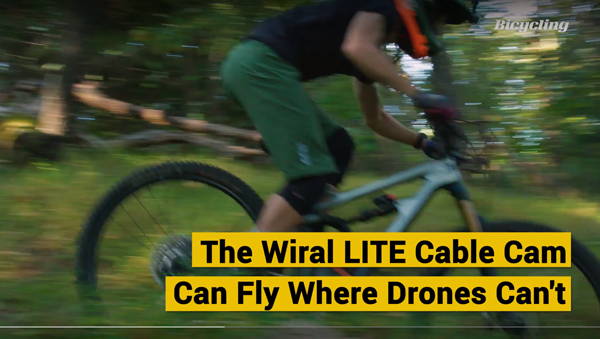 The Wiral Lite Cable Cam Flies Where Drones Can't
[US]

"This cable cam has everything you need to start documenting your sickest lines. Getting flyby footage as you whip through the trees is pretty sweet."
Wiral LITE + GOPRO and INSTA360
- UNBOXING AND FIRST LOOK [US]

"I think this replaces the drone shot when you can't get a drone shot. I think this is a slider shot, but way longer than any slider shot you could ever create. I think this would be sweet for timelapses, being able to do really long slow timelapses. And I think it's also sweet to replace a jib shot over a big crowd."
Wiral Lite Cable Cam Makes Getting That Killer Video Easier [US]

"We all want those killer shots where the camera looks like it's floating through the woods. Or flying through impossibly tight trees where no drone could go? A cable cam is how you do it, and the Wiral Lite is one of the easiest, most affordable ways to add that to your video toolbox."
Multi Camera Editing in
LumaFusion | Wiral LITE Review [NO]

"There's some places I can't risk flying the Mavic 2 Pro, and to capture those scenes, the Wiral LITE would definitely be the device to choose."
Tu CÁMARA en una TIROLINA
con WIRAL LITE [ES]

"Bueno, Wiral LITE me ha parecido un inventazo, creo que es muy sencillo de hacer funcionar aparentamente cuando empiezas a abrir dices esto sera complicado, y nada más lejos de la realidad - es muy sencillo!"
Well, Wiral LITE seems to be a great invention. I think it's very simple to use. When you unbox, you think "That'll be complicated" - but nothing could be further from the truth - it's super simple.
Il gadget per fare
RIPRESE IMPOSSIBILI! [IT]

"Quindi cosa penso del Wiral LITE? È un attrezzo sicuramente interessante che ha un enorme potenziale, e che se sfruttato nel modo giusto ti permette di fare delle inquadrature che non potresti fare con nessun altro prodotto."
So what do I think of Wiral LITE? It's certainly an interesting tool that has enormous potential, and that if it's exploited in the right way it allows you to make shots that you couldn't do with any other product.
Wiral Lite si ves el vídeo
te lo acabas comprando [ES]

"Veis que pasa justamente por aquí. Esa era la idea que pasará súper cerca y que fuera un efecto súper increíble!"
You see that it passes through here. That was the idea, that it'll pass super close and that it'll have an incredible effect!
WIRAL LITE pone tu cámara en una TIROLINA 😮
[ES]

// Wiral Lite Puts Your Camera on a Zip Line

"Podrás hacer increíbles traveling de tus mejores momentos en MTB, ademas de poder montarla en interiores, zonas boscosas o áreas donde no se pueden volar drones."
You can make amazing tracking shots of your best moments in MTB, in addition to riding indoors, in wooded areas or areas where drones can't fly.